Teaching Culture!
Events > Project meeting in León
Project Meeting in León, Spain (13. March - 18. March 2006)

During this meeting, the project partners worked mainly on pilot course 2, the Final meeting in Siegburg, the Final Report and the future of Teaching Culture!





We had a very warm welcome by the representatives of the University of León on Tuesday morning and
by the town of León on Wednesday evening. It was a very productive project meeting and all partners
were very satisfied about the results of our Residential stay in León.

Please click on the picture below to get the schedule of the León project meeting as a .pdf file.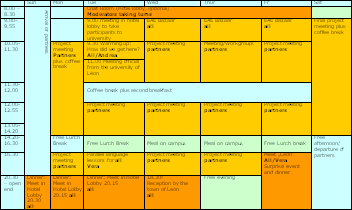 -